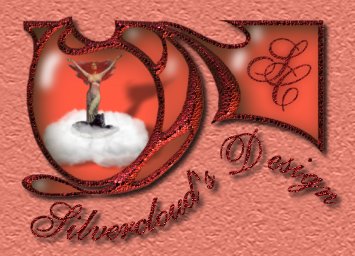 Welcome to Silvercloud's Design! I hope you enjoy your visit and find something here that you like.
All of my websets, backgrounds and such are done with the permission of the various
artists or are my own creations. I want to thank all of the artists that have been kind enough to grant me
permission to use their artwork. I hope you will take the time to visit their sites
and possibly sign their Guestbooks as a way of saying thank you for their kindness and
for sharing their talent with us.

Please do not alter anything on these sets and do not use them for anything other than your
own personal site.

All images on these sites are COPYRIGHT © PROTECTED and remain COPYRIGHT © of their
rightful owners. These graphics are not to be resold and/or redistributed in any form.

By having my name on the sets, does not mean that I am the original artist. I only take credit for
making the design (unless it is my own creation). After long hours of making these graphics,
the only things I ask for is to please link back to the site of the original artist and to
my place to give me credit for the design. And please sign my guestbook or send me an
with your URL so I can take a peek at your site.

OH! And another thing, to save the images, right click on the ones you want and chose 'save as'.
I hope you enjoy these graphics as much as I did making them.....
Thank you....
Silvercloud




More coming soon.......*S*

Get your free guestbook and more here....



I recieved this Diploma for completing the "PSP 101" Course with the guidance of
Stephania from the WebTech University.


My title header was done with a mask and tutorial from Graphic Distractions.
Please take a little time and visit this site of extraordinary tutorials.


Designed by Maurine
Copyright© 2001 Silvercloud's Design