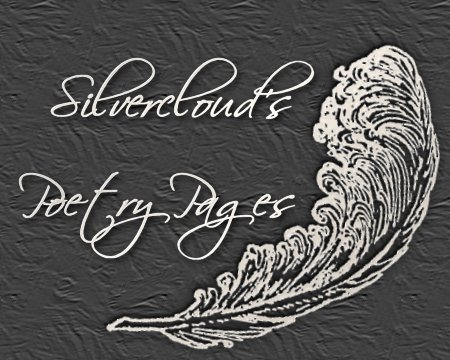 Welcome to my Poetry Pages! I hope you enjoy your visit. Okay.. there isn't
much here yet and I admit I am definetly not a poet!!! *S* But one of these
days I'll give it a try....(just joking).
I want to thank all of the artists and poets, that have been kind enough to grant me
permission to use their artwork and poetry. I hope you will take the time to visit their sites
and possibly sign their Guestbooks as a way of saying thank you for their kindness
and for sharing their talent with us.

All images on these sites are COPYRIGHT © PROTECTED and remain
COPYRIGHT © of their rightful owners. These graphics are not to be
resold and/or redistributed in any form.

By having my name and copyright on the pages, does not mean that I am the
original artist. I only take credit for making the design (unless it is my own creation).
I hope you enjoy these pages as much as I did making them.....
Thank you....
Maurine (Silvercloud)

Oh... And maybe you could spare a few minutes to sign my guestbook....... :-)







Get your free guestbook and more here....



Designed by
Copyright© 2001 Silvercloud's Design