<!ENTER YOUR TEXT AND GRAPHICS BELOW!>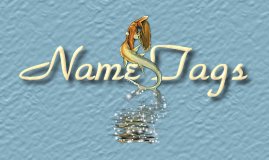 These Name Tags show the possibilities of using PSP. Some of them are linklogos that I made
for various websets and different pages of my website.

Click on the thumbnail to view the tag in full size.
To download right click the fullsize image and save as to your harddrive.
And maybe you could spare a little time to sign my guestbook.....I would enjoy hearing from you..*S*




Please take a moment to sign my guestbook. It would make me very happy... *S*


Get your free guestbook and more here....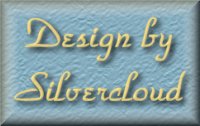 Please visit Joy's site for wonderful PSP tutorials.....and much more!!!


DISCLAIMER

Nothing contained within these pages is in any way meant to offend or infringe upon copyright laws. If any offense or infringment is found, I apologize and will remove them immediatly if you email me. If you see something that is yours and I have overlooked to provide appropriate
credit for it, please notify me by email so that I can make the correction.

You will also find work created with permission from several talented artists. Please provide links back to all artists and my site where you
have chosen to use my work.
I, IN NO WAY, take credit for the graphics, poems, verses, lyrics or such, that I have not created myself.
These sites are strictly made for the enjoyment of myself and others.


Designed by Maurine
Copyrightę 2001 Silvercloud's Design